The city of Atlanta, Georgia is brimming with family-friendly attractions that are easy on your wallet. And from renowned public gardens to art museums to historical sites, there's plenty to do to keep you busy without breaking the bank. For the top nine spots in the city that are both free and fun to visit, read our recommendations below.
1. Centennial Olympic Park
This gorgeous public park is located in downtown Atlanta and hosts several free events throughout the year. With interactive fountains, sprawling green spaces, and views of the surrounding city, it's a great place for a picnic on a sunny afternoon and even offers free music on Wednesday nights.
3. Castleberry Hill
Castleberry Hill is a one-of-a-kind historical neighborhood that's full of charming shops, delis, and fine dining restaurants. It's also located in the city's art district and features several art galleries and shows that are put on by both local and international artists alike. And with tours that explore the area's history and origin, it's perfect for those looking for a taste of culture within the city.
3. Atlanta Contemporary Art Center
Speaking of art, the Atlanta Contemporary Art Center is another free destination for those looking to experience artistry in Atlanta. With free admission on Thursdays, the public can explore modern exhibitions, attend informative lectures, and roam the different galleries located in the museum.
4. Martin Luther King Jr. National Historic Site
The entire life story and burial spot of the monumental civil rights activist, Martin Luther King Jr., can be found right here in Atlanta and is free to visit. With testimonials, tours, memorials, and other interesting facts to explore, it's a sobering and enlightening spot to enrich your time within the city.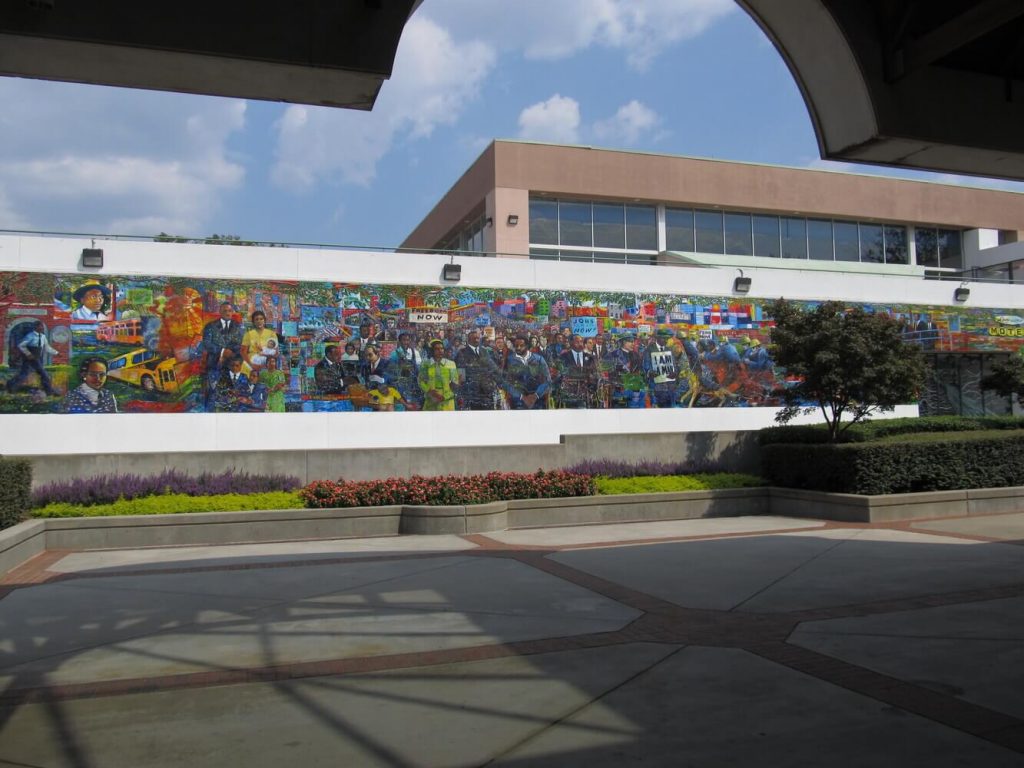 5. National Archives
History buffs will love visiting the National Archives that are located in Atlanta and can learn many things from archival holdings that date all the way back to the 1700s. The facility also offers valid historical perspectives on the American heritage and the role that Atlanta played during the founding of the original thirteen colonies as well.
6. Underground Atlanta
'Underground Atlanta' is a hidden gem that's located within the city's viaducts and contains an extensive area of shopping, restaurants, and other fun things to do. And with over 12-acres to shop and dine in, along with over 60-vendors that offer free admission and samples during the week, it's an excellent place to explore on the weekend.
7. Piedmont Park
This city park contains several nature paths, sports areas, playgrounds, and is great for the whole family. It also features summer markets, marathons, and free events in the warmer months as well. And if you're looking to bike, look no further! Piedmont also includes biking trails for safe and scenic rides.
8. Reading Room at Woodruff Park
Have you ever seen an outdoor reading or study room? If not, head on over to the Reading Room at Woodruff Park. Here, you'll find a unique open-air reading space that partners with the Atlanta-Fulton Public Library. It's an excellent spot for quiet reading or peaceful studying in the great outdoors.
9. Tour of the Governor's Mansion
On Tuesdays through Thursdays from 10 am to 11:30 am, the city of Atlanta offers visitors a chance to tour the Governor's Mansion for free. You can drop by, learn about the city's history, and admire a truly elegant mansion while gaining a greater appreciation for the state officials in the area.
Moving to Atlanta?
Are you planning a relocation to, from, or within the city of Atlanta? There is a lot to love about living in Atlanta! But first, you need to get your things here! If you need help with managing the logistics of your upcoming move, don't hesitate to give us a call. At Cheap Movers Atlanta, we pair you with local moving companies for less. Get started on your move with a free quote now.
---